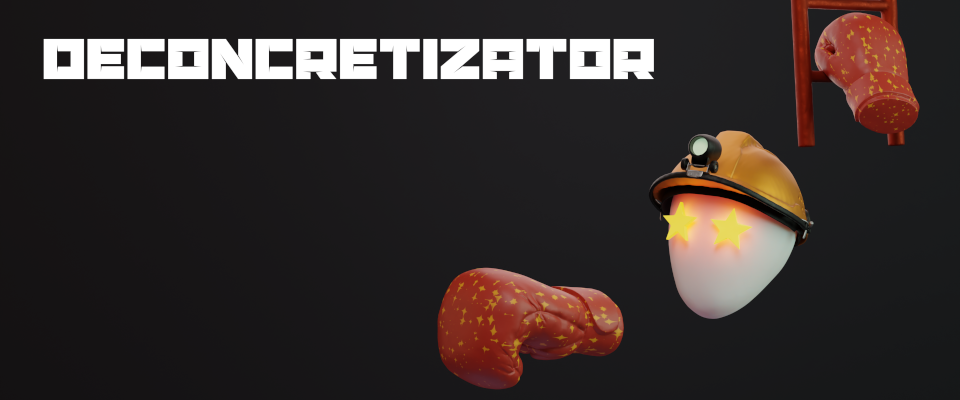 Deconcretizator
A downloadable game for Windows and Android
This version is very outdated! We also run a semi-closed beta testing on AppLab, join our Discord server to get access to the latest version!
---
Bad news: we blew our budget and all our construction projects are cancelled. Now we need to clean up the mess or face a huge fine.
Good news: your DECONCRETIZATION GLOVES punch through concrete panels like a TNT blast.
Destroy all the panels and escape the construction site in a dynamic platforming action.

Created for the "My First VR Game" jam with a "Construction / Destruction" theme. Destroy the cancelled construction site!
Controls
This game uses a locomotion scheme, inspired by Gorilla Tag. Push and launch yourself from any surface, grab onto ledges or columns, wedge yourself between opposing walls.

Press left menu / left B button to restart
Hold left menu / left B button to return to level selection
Use right joystick to rotate
Supported platforms
The game has been tested with HTC Vive Pro using SteamVR, Oculus Quest 2 - standalone and using Oculus Link. Should probably run with any SteamVR-compatible headset.
Known bugs

Opening SteamVR overlay teleports the controllers into the floor, launching the player with a high speed.
Closing the game using SteamVR overlay can cause crashes.
Download
Click download now to get access to the following files:
Deconcretizator-v1.0.apk
195 MB
Deconcretizator-v1.0.zip
275 MB
Comments
Log in with itch.io to leave a comment.
I found an interesting bug! Like the SteamVR overlay thing, when you press the home button on Quest, it launches you upwards. Though, it's hard to use to find unintended ways to beat the levels because you can't close the menu quick enough.
Interesting! This was not supposed to happen. Do you run it on Quest 1 standalone? It seems to stop the controller tracking when I pause the game on Quest 2, so it doesn't launch me, but we don't have a Quest 1 right now to test it there. Is it specific to any particular place in a level?
Anyway, working on making the game focus-aware to prevent the overlay launching bug on all platforms is definitely on our TODO list since it may be really uncomfortable.
I was running it on Quest 2, but I think the main thing was the direction I was moving my controller before pressing the menu button. I was moving my controller down so it probably tried to continue that movement or something